MARA KORPER: SYNOPSIS
Mara works for a government organisation. Ser job is to clean dead bodies and prepare them for recycling. Bodies must remain whole and unsliced, even when dead, and Mara wants to know why.
Mara's friend Fedenka is responsible for helping patients who have manipulated their bodies to look more 'angular', change back to the approved 'rounded' shape. Secretly, Fedenka tries to make ser body more 'angular', causing tension between ser & Mara, who worries about being found out by government officials.
When new employee Konrad suspects Mara of deviance Sie tries to report them, finding any evidence Sie can to incriminate them so Sie might be promoted and take Mara's job. become 'angular'. When pressures mount and Konrad is unable to succeed, Sie plunges ser hand into ser mouth and rips out a cord before exploding in front of Mara & Fedenka. They realise this cord has been the reason for their oppression. They rip their cords out but Fedenka damages ser organs in the process.
To save Fedenka, Mara has to slice Fedenka's flesh to replace ser damaged organs with Konrad's. Mara succeeds and in the process of stitching ser up, accidentally gives Fedenka the forbidden angular body Sie always wanted. Mara suddenly realises Sie must free everyone from their oppressive "Mother Cords" & assist them in creating the bodies they have always wanted. Fedenka has ser doubts, but Mara coerces ser into agreeing that it is for the greater good. They set out to take over the world, one 'korper' at a time.
MARA KORPER: DESIGN REFERENCE IMAGES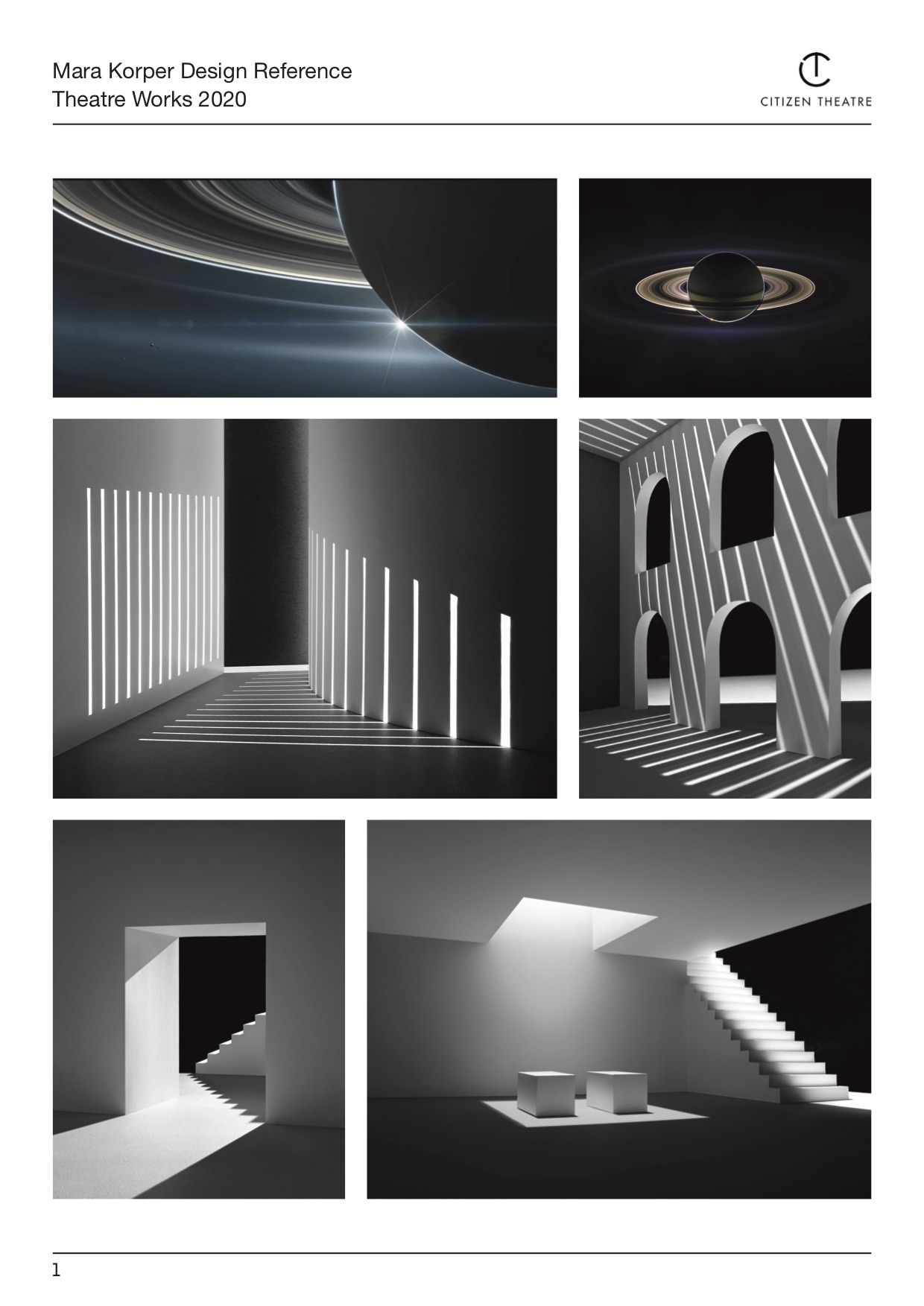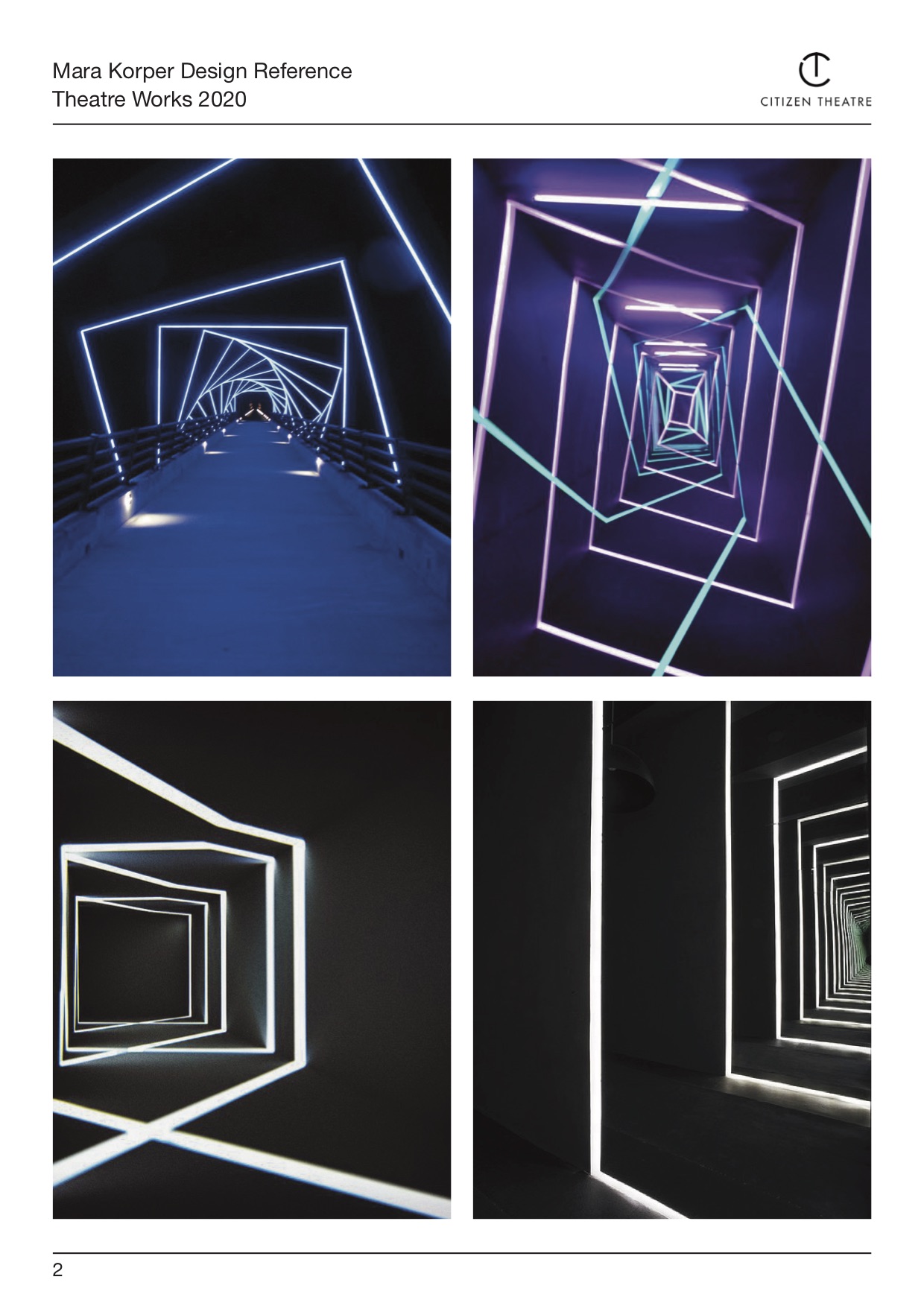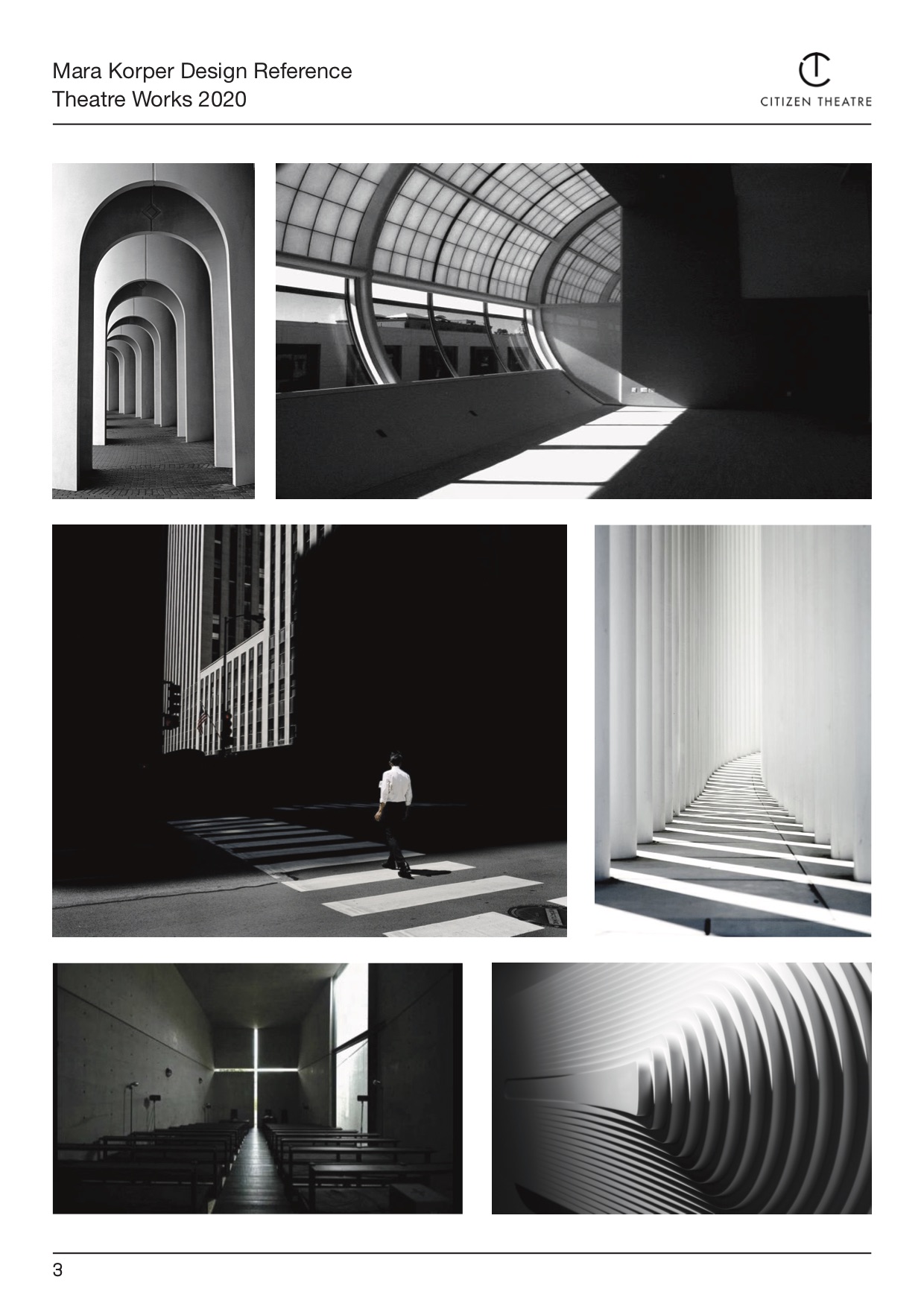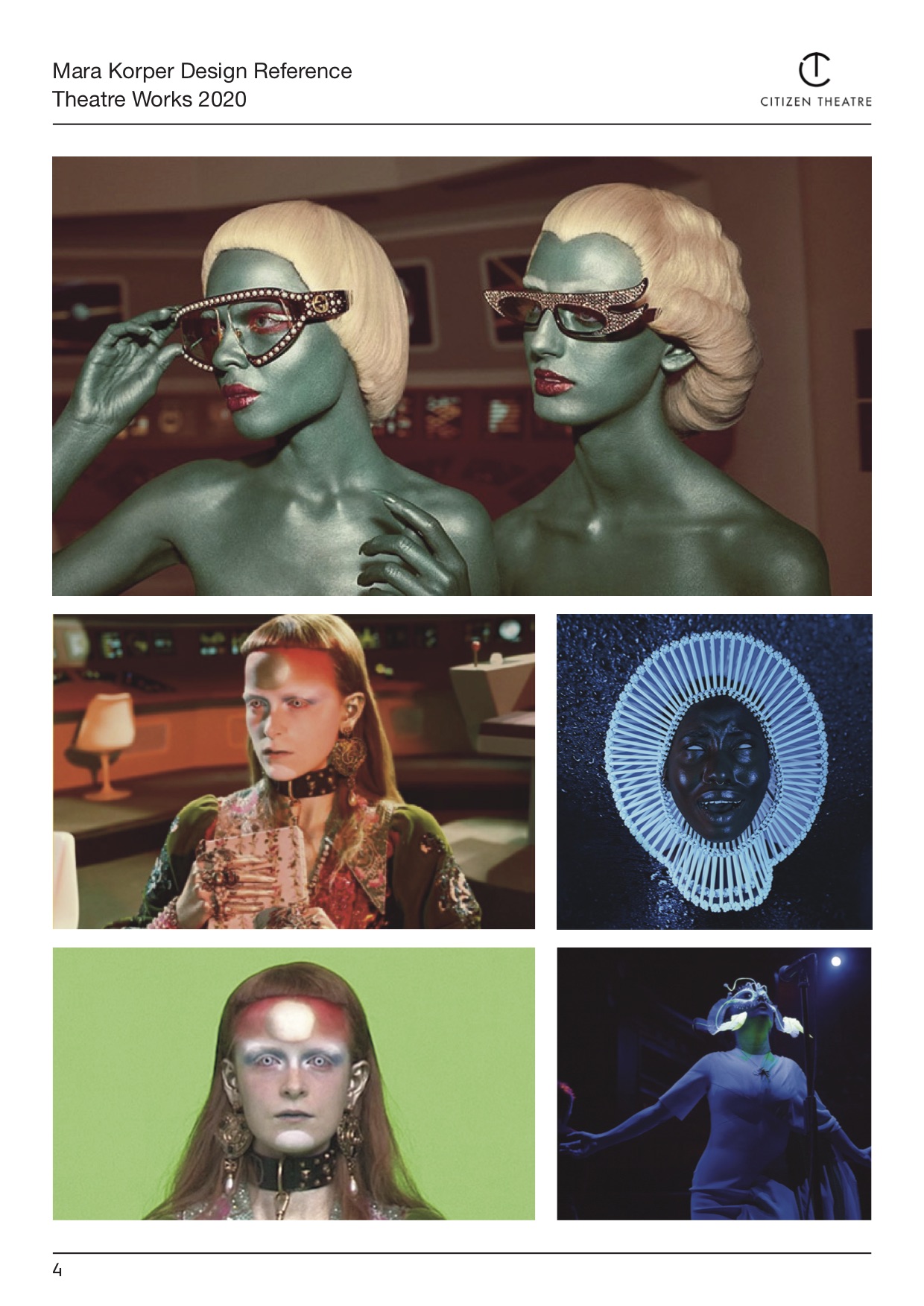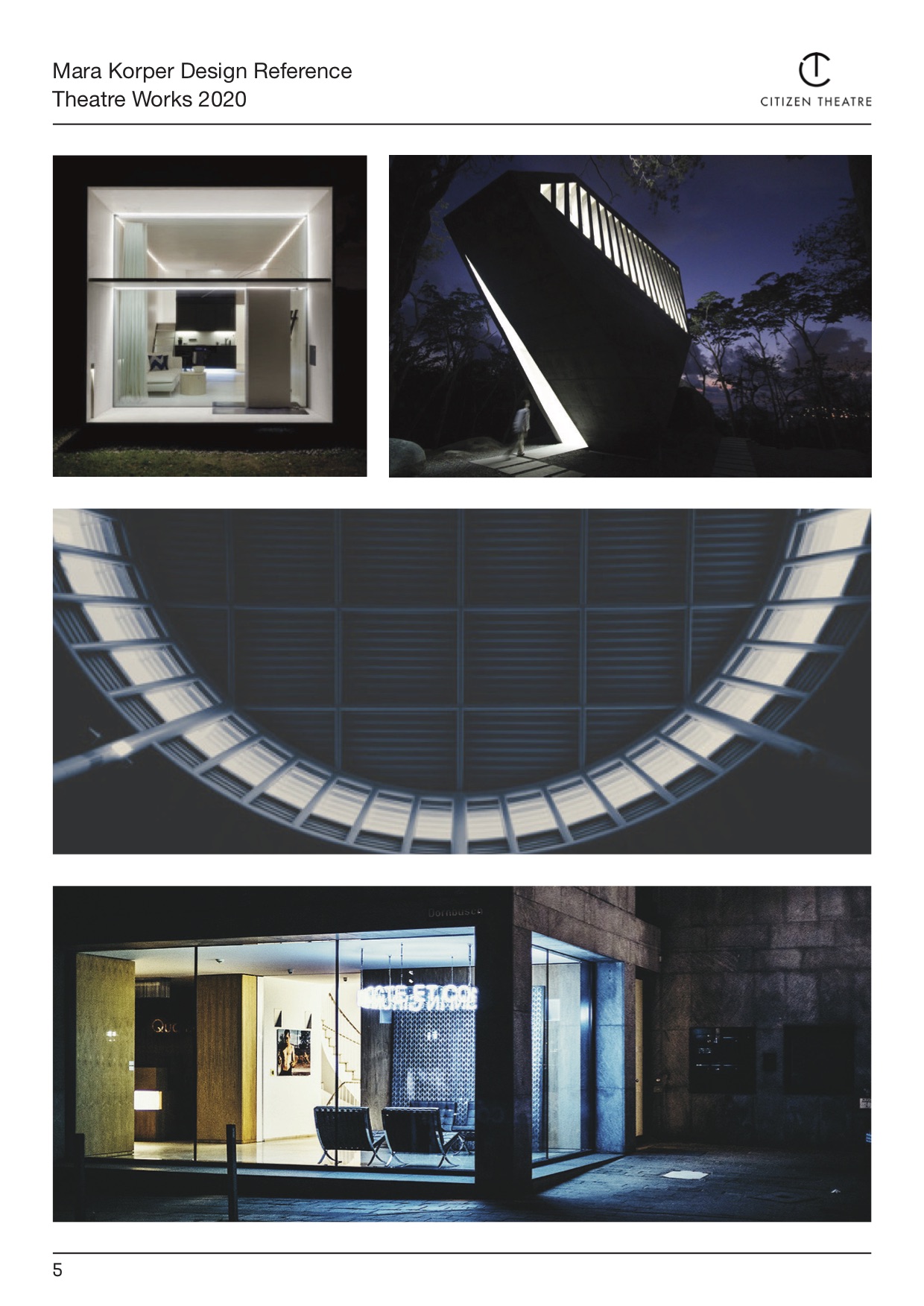 PREVIOUS RELEVANT ARTISTIC WORK
AN EXPERIMENTAL MUSIC THEATRE PRODUCTION
THEATRE WORKS, SEP 28-30 for the 2018 Melbourne Fringe Festival
'Ascent' tells the story of a woman who improves herself to death. In her quest to feel forever fresh and live up others' and her own expectations of how she ought to be, she undergoes a series of physical transformations, ranging from haircuts to facelifts, and more invasive procedures. Reaching for her ideal self, she ascends into oblivion.
The Citizen Theatre ensemble tells this story by creating optical illusions with movement & light, along with an experimental use of song, voice & music.
REVIEWERS SAID:
"Kirchert's unique world tackles deep questions with zest and comedic flair" (Theatre Press)
"Ascent is an amazing experimental fusion of sight and sound" (Stage Whispers)
"Entertaining and thought-provoking, this is an innovative play that is an echo chamber of the unrealistic beauty standards that remain today" (BeMelbourne)
HIGH LINE PRODUCTIONS IN COLLABORATION WITH CITIZEN THEATRE
A NEW AUSTRALIAN PLAY
LA MAMA COURTHOUSE, JUNE 12-23 2019 and WONTHAGGI STATE COAL MINE THEATRE, SEP 20-21 2019
(EMBARGOED: GASWORKS THEATRE, MIDSUMMA FESTIVAL 2020)
Death is wild and unpredictable, when it comes to the end of my life, my trust is with myself.
Dan's dreaming of dead ducks and cartoon skeletons. He's also dying. Liam's doing his best to be supportive, his sister has good intentions and the nurse is trying to provide the comfort prescribed in the rule book. But none of them can give him what he needs. With access to assisted dying imminent, everyone has an opinion in how you live and die. It's time for Dan to choose how he goes.
REVIEWERS SAID:
"...a moving and nuanced four-hander, featuring elegant design and emotionally charged performances...It's a talented, emotionally honest dive into a tragic human situation" - (Cameron Woodhead) The Age
"a bold and thought provoking piece of theatre" - (Myron My) My Melbourne Arts
"gripping and irresistible" - (Cameron Colwell) The Music
"This is a brave and compelling story about a subject that is crying out for a voice." - (Patricia Di Risio) Stage Whispers
FORGOTTEN PLACES: IMMERSIVE EXPERIENCE SERIES
FORGOTTEN PLACES: FROM THE PAST A FUTURE BEGINS
CHAPEL OFF CHAPEL, 13-17 FEBRUARY 2019
The Citizen Theatre team created the Forgotten Places immersive experience by incorporating a selection of photographic submissions from Stonnington locals. These were transformed into an interactive future city where paintings, sculpture, singing, storytelling, music and colour gave audiences of all ages an inspiring experience to change the way they view and interact with their local area. Quirky dances, beautiful collaborative interactive performances and breathtaking abstract art came together to create a relaxing, nourishing and inspiring experience.
FORGOTTEN PLACES: JOURNEY BEYOND THE STARS
KINGSTON ARTS CENTRE, 4-7 SEPTEMBER 2019
Inspired by Kingston's unique history of UFO sightings, Forgotten Places: Journey Beyond the Stars gave audiences the chance to see, hear and feel different types of contemporary art. Visitors could walk among beautiful singing aliens and giant golden planets, watch dancing moons or escape the world through giant silver wormholes. They lay on the astroturf and gazed at the stars whilst dreamy live music was performed by up and coming indie songwriter Imogen Cygler.
Photo credit: Stu Brown
First two images are from Forgotten Places: From The Past A Future Begins (Stonnington). Last two images are from Forgotten Places: Journey Beyond the Stars (Kingston)
REVIEWERS SAID:
"Forgotten Places is an experience of great beauty…I don't know if I have ever attended a performance which felt so genuinely like a gift for me. 5 stars" - Samsara Dunston, What Did She Think
"Congratulations to Citizen Theatre for their latest fascinating, immersive, and calming outing – and for daring to create a world so special." - Owen James, Theatre Press